Inline Alpin Sport
A dangerous spool type with the courage and power is missing. The point is, is a road with 6% - 15% strong mountains that cross to parkour, slalom, giant slalom or parallel slalom. The average speeds are around 60 km / h.

Information about Inline Alpin Sport
Inline Alpin
This discipline will performed with inline skates whose wheel size can vary between 80 mm and 110 mm. In addition, it may also be decided whether to use inline with 4-castors and 5-castors.
A sensible and professional inline alpine athlete wears a helmet with or without a chin guard, elbow and knee pads as well as chest and back protectors. In addition to the equipment may also be started with ski poles.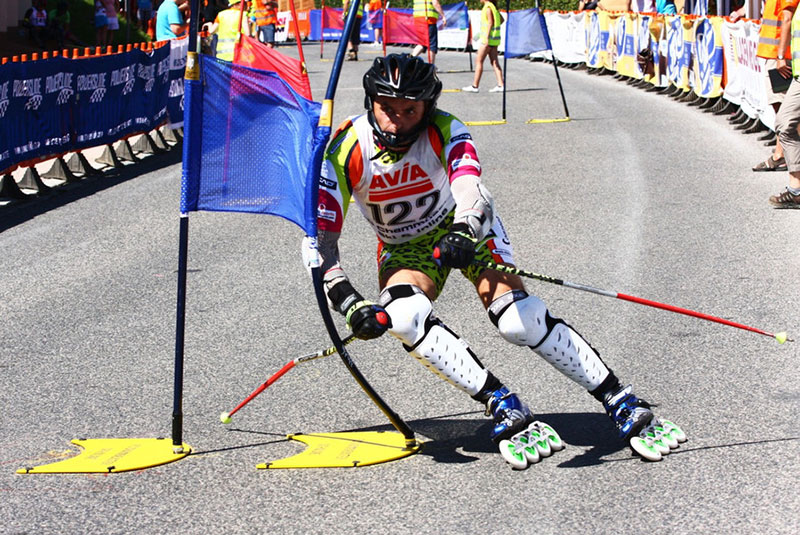 The history of Inline Alpin
The story of this sport is still pretty young. At the beginning, the Inline Alpin downhill was used for the summer training for the alpine skiers. As more brave athletes joined the discipline every year, it became a recognized sport. Since 2000, even World Championships are extended.

Inline Alpin Stars
Claudia Wittmann
Mona Sing
Alessandra Veit
Kristaps Zvejnieks
Marco Walz
Manuel-Alessandro Zörlein
Inline Alpin equipment
The equipment of an inline alpine skater includes the alpine inliner, helmet - mostly motocross helmet, shin guards and elbow pads of the hockey, as well as protective gloves.

Inline Alpin Skates
The most frequently used inline alpine skates include the K2 Radical Skates as well as the Powerslide R4 and Powerslide C8 inliners.
It is important for the Inliner Alpin Inliner that they have a high lateral stability and a long, if possible, 100 mm to 110 mm frame.
There are no products matching the selection
This is a custom CMS block displayed if category is empty.
You can replace it with any custom content.